80% of Covid-19 patients in HCMC have no or mild symptoms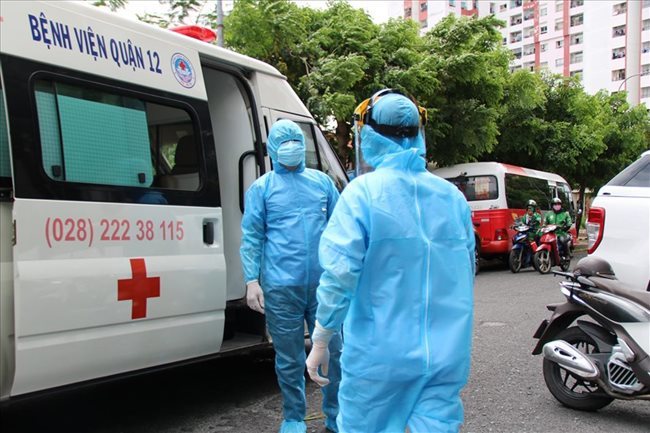 Two medical workers are seen next to an ambulance. Up to 80% of the Covid-19 patients in HCMC have no or mild symptoms – PHOTO: LDO
The figure was announced as part of a plan to establish two field hospitals with a total capacity of 5,000 beds at the Vietnam National University HCMC, which would accommodate newly-detected Covid-19 patients and those who develop no or mild symptoms, news site Vnexpress reported.
Doctor Nguyen Tri Dung, director of the municipal Center for Disease Control, has also stated that some 1.3% of the patients in the city developed serious symptoms, while 68% were asymptomatic.
These cases have caused multiple difficulties in the tracing work, Dung noted.
In the coming periods, HCMC should protect people with a high risk of infection and those with underlying illnesses. They should be prioritized to be vaccinated against Covid-19.
Director of the HCMC Department of Health Nguyen Tan Binh said the treatment of patients without symptoms in separate areas would help ease the pressure on the healthcare sector.
In some countries, these patients have been asked to monitor their health condition at home. In HCMC, the number of asymptomatic Covid-19 patients has not been too high, so they are still being monitored by healthcare workers, Binh added.
In mid-May, the Medical Services Administration under the Ministry of Health stated that some 60% of Covid-19 patients in this Covid-19 wave showed no clinical symptoms. Therefore, the tracing and testing of suspected people is important in the fight against Covid-19.
In related news, of the over 9,000 Covid-19 patients under treatment, 16 have been put on extracorporeal membrane oxygenation machines, 114 are in severe condition and 49 others are very critical.
Bac Giang is treating the most number of Covid-19 cases. In HCMC, Covid-19 patients are receiving medical treatment at 12 facilities. Of them, the Can Gio Covid-19 Treatment Hospital is treating the most, at 532, followed by the Cu Chi Covid-19 Treatment Hospital with 408 patients.
Largest fishing port in Central Vietnam put under lockdown
The Tho Quang fishing port in Danang's Son Tra District was temporarily put under lockdown on June 28, after the authorities discovered that five Covid-19 cases from Quang Ngai Province had visited the port.
Medical workers worked all night to collect the samples of over 1,000 traders at the port for Covid-19 testing. The local authorities were waiting for their test results to evaluate the coronavirus transmission risk at the port, said Huynh Van Hung, vice chairman of the district government, VnExpress reported.
The sample collection work concluded at 5 a.m. today. As of this afternoon, all of them tested negative for the virus once.
The Tho Quang fishing port is the largest of its kind in the central region. It functions as an offshore seafood transit hub for most of the fishermen in the region.
Earlier, on June 28, the Center for Disease Control in Danang was informed by the Quang Ngai authorities that five fish traders who are residents of Quang Ngai Province's Duc Pho District tested positive for the coronavirus. They had visited the fishing port.
Specifically, at around 5 p.m. on June 23, the five fish traders along with one driver traveled from Quang Ngai to the fishing port. They remained at the port from 10 p.m. on June 23 to 2 a.m. on June 24 to sell fish to their business partners, while the driver stayed in his car.
They returned to Quang Ngai early on June 24 morning. On June 26, the driver's wife was found infected with Covid-19 but she did not travel with her husband and the five traders to the fishing port before.
The Danang Department of Health announced that people who were linked to the five traders or visited the port during the given period should contact the local health authorities to make a health declaration and take a Covid-19 test.
COVID-19: One imported, 93 domestic infections reported in 12 hours
Vietnam recorded 94 new COVID-19 infections, including 93 cases of community transmission and one imported, in the 12 hours to 6am on June 30, raising the tally to 16,507, the Ministry of Health said.
Among the new locally-infected cases, 62 are in Ho Chi Minh City, 21 in Phu Yen province, four in Nghe An province, three in Bac Giang province, and three in Binh Dinh province. Eighty-seven of them were found in quarantine sites or sealed-off areas.
The country has so far seen 1,790 imported cases and 14,717 others of community transmission. Of the 13,147 local cases reported since April 27, when the latest virus resurgence began, 3,990 have recovered.
Among those still under treatment, 284 have tested negative for the coronavirus SARS-CoV-2 once, 121 others twice, and 84 thrice.
Meanwhile, the related fatalities now stand at 80, according to the Health Ministry.
Fourteen provinces have stayed free of COVID-19 for 14 straight days in this fourth outbreak, namely Yen Bai, Quang Tri, Thua Thien-Hue, Tuyen Quang, Son La, Ninh Binh, Thanh Hoa, Thai Nguyen, Bac Lieu, Dien Bien, Vinh Phuc, Hai Duong, Phu Tho, and Ha Nam./.
Vietnam, India bolster ICT collaboration amidst COVID-19
The Indian Embassy in Hanoi on June 29 coordinated with the Vietnamese Ministry of Information and Communications in holding a webinar on information and communications technology (ICT) cooperation between India and Vietnam amidst the COVID-19 pandemic.
Addressing the event, Deputy Minister of Information and Communications Nguyen Huy Dung said that this webinar was an important and timely event in the context that the pandemic continues to develop complicatedly, causing severe recession for many countries.
Dung expressed his belief that the two countries will have many ideas and experiences to share, exchange with each other in ICT, given both exerting great efforts in ICT development and application.
He told participants that in its National Digital Transformation Strategy, Vietnam is aiming to raise the share of the digital economy in national GDP to 20 percent by 2025 and about 30 percent by 2030.
Indian Ambassador Pranay Verma stated that ICT will play an important role in post-pandemic economic recovery in both countries.
Both India and Vietnam have very ambitious visions in developing the ICT sector, especially during the Fourth Industrial Revolution. Therefore, this is the right time for them to seek more opportunities to raise ICT capacity for deeper cooperation, he added.
At the webinar, Indian and Vietnamese experts shared opinions, advantages and opportunities of the two nations in this field. Digital transformation in Vietnam and technology solutions on the COVID-19 fight, cyber security and 5G technology drew their special attention./.
HCMC deploys special-use coaches to transport Covid-19 patients
The HCMC departments of Health and Transport have mobilized 200 special-use coaches to carry newly-detected Covid-19 patients with no or mild symptoms to Covid-19 treatment hospitals, while ambulances will be utilized to transport severely ill Covid-19 patients and serve the city's vaccination drives.
The southern city is facing a complicated Covid-19 situation with a hike in case numbers, but over 80% of the cases are asymptomatic or have mild symptoms.
Therefore, it is unnecessary to use ambulances with first aid teams to transport such cases to hospitals. Meanwhile, ambulances are utilized to ensure the safety of the city's vaccination drives, the health department explained today, June 29.
Ambulances will also be used to transport coronavirus patients who develop severe symptoms or are in a critical condition to Covid-19 treatment hospitals or those offering special intensive care treatment, VnExpress reported.
According to the health department, the coaches have separate cabins for patients and medical workers and drivers, with a large number of vehicles ready to transport coronavirus patients.
Drivers transporting coronavirus patients are vaccinated, have received training and a certificate for using protective gear, disinfecting vehicles, equipment, and following anti-virus measures.
HCMC to replace centralized quarantine centers at schools' dorms
Concentrated quarantine facilities at the dormitories of schools in HCMC will be replaced by other units meeting requirements to prevent cross infection, said municipal vice chairman Duong Anh Duc.
At a press briefing on June 28, Duc said the city would gradually shut down centralized quarantine centers at the dormitories of schools as the rooms there have no separate bathrooms, posing a high risk of cross infection, Nguoi Lao Dong newspaper reported.
Many countries worldwide have requisitioned schools' dorms as centralized quarantine centers. However, since the appearance of the Delta variant of the coronavirus, which is more transmissible, the solution has showed its shortcomings.
HCMC is one of the localities effectively organizing centralized quarantine, Duc noted.
Regarding the people prioritized to receive Covid-19 vaccines, Duc said the Government and the Ministry of Health had weighed priority groups carefully. Workers at industrial and export processing zones have also been prioritized to reduce the risk of pandemic transmission and ensure economic development.
As to how the number of Covid-19 cases in the city had still increased despite the many anti-pandemic measures in place, Phan Thanh Tam, deputy director of the HCMC Center for Disease Control, said the Covid-19 transmission rate in the current wave was extremely high and that the Delta variant is much more transmissible than the previous ones.
HCMC divides districts into three groups to combat Covid-19
The HCMC government has divided the city's districts into three groups with different levels of Covid-19 transmission to work out appropriate coping solutions for each group, said municipal chairman Nguyen Thanh Phong.
The decision was made at a meeting of the municipal steering committee for Covid-19 infection prevention and control on June 28 amid the raging pandemic in the city, which made the city the second largest coronavirus hotspot in Vietnam, the local media reported.
Accordingly, the extremely-high-risk group comprises the districts of Binh Tan, Hoc Mon, Binh Chanh, 8 and Tan Phu and part of Thu Duc City (formerly Thu Duc District). These areas have seen a steady rise in Covid-19 cases, with Binh Tan District having the most cases at 536, followed by District 8 with 245 cases and Hoc Mon District with 236 cases as of the afternoon of June 28.
These areas have also been home to many pandemic clusters with unknown sources of infection.
Meanwhile, Go Vap, Cu Chi, 1, 5, 4, 12, Binh Thanh and Tan Binh districts and part of Thu Duc City (formerly districts 2 and 9) were classified as having a high risk of Covid-19 transmission. Of them, Go Vap reported 176 cases as of yesterday afternoon and is home to the Revival Ekklesia Mission hotspot.
In addition, the districts with a risk of Covid-19 infection are 10, 11, 7, Phu Nhuan and Can Gio. These districts have confirmed a small number of Covid-19 cases.
Assessing the pandemic's developments in the city, municipal chairman Phong said June 28 was the 12th consecutive day that the city had detected a triple-digit spike in Covid-19 cases in a single day.
The city has employed multiple anti-virus measures, even stricter than the prime minister's Directive 16. However, the number of new Covid-19 cases remained high.
Therefore, Phong ordered serious compliance with the municipal government's Directive 10 on intensifying anti-virus measures citywide and a higher awareness among local residents.
He allowed the governments of Thu Duc City and districts to decide the lockdown of virus-hit areas and asked the municipal Department of Health to establish and send special teams to Thu Duc and districts to support them in the fight against Covid-19.
In industrial and export processing zones, the Saigon Hi-tech Park and the Quang Trung Software City, their management boards will take responsibility for the pandemic prevention and control there.
The municipal Department of Information and Communications should increase CCTV cameras at centralized quarantine centers.
Secretary of the HCMC Party Committee Nguyen Van Nen said in order to combat the pandemic, the city would spend more time on tracing work, launch a large-scale testing campaign to detect Covid-19 patients and accelerate the testing process.
The use of test kits is an important solution contributing to the quick detection of cases. As soon as the city receives test kits provided by the Government and other agencies, it would immediately conduct a large-scale testing campaign in industrial and export processing zones and places with many people and districts.
Passengers traveling to Vinh airport must have negative Covid-19 test result
The government of Vinh City in Nghe An Province has demanded that all passengers arriving at Vinh airport from July 1 must show a negative Covid-19 RT-PCR test result or undergo a rapid Covid-19 test at the airport with a negative result, as part of the city's efforts to prevent the spread of the coronavirus.
The authorities made this decision as the pandemic is raging in many parts nationwide and Vinh City is implementing social distancing in line with the prime minister's Directive 16, reported VietnamPlus.
According to the authorities' requirements, air passengers' negative Covid-19 test certificates must be done within three days ahead of their arrival at the airport. Meanwhile, those who have not undergone a Covid-19 test before have to take an on-site rapid test at the airport and cover the testing fees in line with the prevailing regulations.
Earlier, on June 13, the city reported its first locally-infected case during the current fourth coronavirus wave in the country. The city began social distancing starting from June 19.
As the Vinh International Airport is located in the city, the local competent forces received many questions from local residents and those of other localities about the travel to and from the airport.
The city's government then proposed the provincial government and Department of Health set up an anti-Covid-19 taskforce at the airport.
129 households in Ba Ria-Vung Tau under lockdown due to Covid-19 case
The Ba Ria-Vung Tau government put 129 households in Phuoc Tinh Commune in Long Dien District under lockdown today, June 29, after a 29-year-old fisherman, who lives there, tested positive for Covid-19.
He returned to the commune for 10 days after his fishing trip in the waters bordering Indonesia.
On June 28, he developed some symptoms of a cough, fever and sore throat and visited a general clinic in Phuoc Hung Commune for a medical checkup. The man was told to stay in a quarantine room and undergo a screening test, but he left the site and traveled to Ba Ria Hospital.
The result of his quick test taken at Ba Ria Hospital came back positive for Covid-19, while the RT-PCR test conducted by the Ba Ria-Vung Tau Center for Disease Control also showed he was infected with the virus.
Phan Thach, chairman of Phuoc Tinh Commune, said that after being notified of the case, the competent forces quickly set up several checkpoints in the commune and put 129 households with 500 people under lockdown to prevent the spread of Covid-19. The samples of these people have been taken for testing.
Besides, the province also locked down the Emergency Department of Ba Ria Hospital to have the site disinfected.
Over 200 people, including 36 medical workers, were found to have come into close contact with the Covid-19 case, the first domestic Covid-19 infection in the province in the current fourth wave of the coronavirus, which began on April 27, the local media reported.
Two more markets in HCMC put under lockdown
The authorities of Linh Dong Ward in HCMC's Thu Duc City began suspending the operation of Tam Ha Market from 12.00 p.m. today, June 29, while part of Ba Chieu Market in Binh Thanh District was locked down this morning to prevent the spread of Covid-19.
Tran Dang Khoa, chairman of Ward 1 in Binh Thanh District, said that an area at Ba Chieu Market where fish is sold was put under lockdown after a positive Covid-19 case visited the site.
The vendors of the area had their samples taken for Covid-19 testing, while competent forces disinfected the site.
Meanwhile, Tam Ha Market on To Ngoc Van Street was suspended as there are no parking lots at the market and many people from several wards visit the market to buy goods, so keeping a safe physical distance is not ensured, said Nguyen Thi Thanh Loan, chairwoman of Linh Dong Ward.
The government of Linh Dong Ward asked the Tam Ha Market management board to inform vendors of the suspension, which is aimed at curbing the spread of Covid-19.
Earlier on June 28, Hoc Mon Wholesale Market in Hoc Mon District, one of the city's three largest wholesale markets, was suspended for seven days, while some sections of Binh Dien Wholesale Market in District 8 were locked down for disinfection.
Several other traditional markets such as Son Ky in Tan Phu District, Hoang Hoa Tham and Pham Van Hai in Tan Binh District, Hoa Hung in District 10, Thai Binh and Dan Sinh in District 1, Nguyen Tri Phuong in District 10 and Pham The Hien in District 8 were temporarily closed down to curtail the spread of the virus.
As of this afternoon, HCMC has reported 3,548 domestic Covid-19 cases in the current fourth wave of the coronavirus, which began on April 27.
An Giang declares river erosion emergency
The An Giang Province People's Committee on June 24 declared an erosion emergency in the Châu Đốc River in An Phú Town.
Erosion along the eastern bank of the river in the town's An Thạnh Hamlet in An Phú District has damaged houses and threatened people's safety recently.
On June 5 around 70 metres of land, extending 15 metres inland, fell into the river along with two houses, and four other houses were damaged partially.
The eroded area is along a bend and in a narrow section of the river, which are said to be the main causes along with the wash of boats and the illegal construction of houses on the banks.
The erosion is expected to continue in the area and affect houses, according to the province Department of Agriculture and Rural Development.
The province People's Committee has instructed the Department of Natural Resources and Environment (DoNRE) to put up boards warning of extremely dangerous erosion and install safety barriers.
DoNRE will be responsible for monitoring the erosion situation and proposing intervention measures.
The People's Committee has instructed the Department of Transport to regulate transport in the area.
It has called on the An Phú District People's Committee to closely monitor the erosion situation and promptly move people and property out of danger areas.
The district has faced a severe threat of erosion along its rivers and canals in recent years.
It has suffered 45 cases of erosion along a total length of 2.5 km in the last three years that destroyed nine houses and damaged seven others, while another 76 households had to be moved to safer areas.
On June 15 the province People's Committee declared an emergency in the Ông Chưởng Canal in Chợ Mới District after 50 metres along Provincial Road 946 were eroded. Two metres of the road slipped into the canal, affecting transport.
The Cửu Long (Mekong) Delta province, in all, had 61 cases of erosion affecting a length of 3.3 km along rivers and canals last year, up 13 from 2019, according to its Steering Committee for Climate Change Response, Natural Disaster Prevention and Control, and Search and Rescue.
They caused losses of VNĐ7.3 billion (US$316,000) and forced 119 households to relocate to safety.
Laos donates $300,000 into Vietnam's Vaccine Fund
At the meeting, DPM Pham Binh Minh congratulated Laos for the successful 11th National Congress of the Lao People's Revolutionary Party, and highly appreciated the visit of Thongloun Sisoulith, General Secretary of Lao People's Revolutionary Party and State President, to Vietnam. Vietnam is their first country of visit under the new tenure, reflecting special bilateral relations.
"With careful preparation, I believe that the visit of Thongloun Sisoulith to Vietnam would be successful," DPM Minh said.
"The Laos-Vietnam relationship is special for President Thongloun Sisoulith to choose Vietnam as the first destination of his overseas trip," DPM Siphandone said.
Highly appreciating the cooperation of the two Ministries of Planning and Investment in fighting against the pandemic, DPM Siphandone on behalf of the Lao government and Vietnamese people living and working in Laos donated $300,000 to Vietnam's Vaccine Fund.
President receives WB Vice President for East Asia and Pacific
State President Nguyen Xuan Phuc hosted a reception in Hanoi on June 29 for World Bank (WB) Regional Vice President for East Asia and the Pacific Victoria Kwakwa who is on a working trip to Vietnam.
Hailing Kwakwa for her dedication to promoting effective cooperation programmes between WB and Vietnam, Phuc affirmed that the Vietnamese State and people always highly value her efforts and contributions in the field.
The WB has assisted Vietnam not only in poverty reduction but also in the building of mechanisms and strategic infrastructure framework over the past years, thus helping Vietnam make breakthrough strides, which have been welcomed by the WB and international organisations, he said.
Phuc thanked the WB for supporting Vietnam's bid to delay the payment of International Development Association's loans in order to have more resources for the fight against COVID-19 and for economic development. He also lauded the WB's initiatives to assist countries in the COVID-19 fight, including Vietnam.
Kwakwa, for her part, congratulated Vietnam on curbing the COVID-19 spread. At the same time, the country also harmoniously combined fiscal and monetary policies to generate strong economic growth, becoming one of a few nations with positive growth in the region and achievements in export.
Underlining the importance of vaccinations, she also committed all possible support to Vietnam to buy vaccines and offer health care to its people.
About Vietnam's socio-economic development orientations, Kwakwa said Vietnam has devised a relatively complete development policy framework, especially regarding the development of key economic zones, digital transformation, inclusive development, climate change response and green growth, which are strategic infrastructure for Vietnam to become an upper middle-income country by 2045.
The guest also spoke highly of Vietnam's efforts to realise the climate change response strategy in the Mekong Delta and reduce greenhouse carbon emissions. She suggested Vietnam pay more attention to reducing coal-fired power development and switching to cleaner and greener energy production.
The host wished that the WB would continue assisting Vietnam in fulfilling development goals till 2035 and 2045, as well as addressing post-pandemic poverty relapse in countries, including Vietnam.
Phuc discussed with the WB official measures to fix shortcomings in building projects and disbursing official development assistance (ODA) in Vietnam, and proposed Kwakwa seek more ODA to Vietnam in the time to come./.
Foreign Minister calls for Norway's investment
Foreign Minister Bui Thanh Son called for more investment from Norway in Vietnam during a phone talk with his Norwegian counterpart Ine Marie Eriksen Soreide on June 29.
He suggested Norwegian businesses invest in transport, ship building, fuel gas, renewable energy and aquaculture.
The two sides expressed joy at the development of bilateral relations in the recent past, including a two-way trade of more than 500 million USD in 2020.
Vietnamese FM Bui Thanh Son (L) holds a phone talk with Norwegian counterpart
FM Son thanked Norway for its support during the month Vietnam served as President of the UNSD last April and noted his hope for continued coordination.
The two FMs discussed regional issues on the UNSC's agenda, sharing concerns over the humanitarian situation in Syria, and the need to continue humanitarian support for Syrian people.
Son informed the Norwegian minister about ASEAN's efforts to help with the stabilization of the situation in Myanmar. Minister Soreide affirmed her support for ASEAN's role and urged ASEAN to early implement the five-point consensus.
The Vietnamese FM invited his Norwegian counterpart to visit Vietnam on the occasion of the 50th anniversary of Vietnam-Norway diplomatic relation. Minister Soreide accepted the invitation with pleasure./.
Three men prosecuted for arranging illegal exit for foreigners in Vietnam
Police in the southern border province of Binh Phuoc has launched criminal proceedings against three coach drivers for organising illegal exit for foreigners.
The prosecuted were Nguyen Hoai Nhan (aged 37), Nguyen Thanh Nghi (42) and Pham Quang Phu (36), all are residing in Ho Chi Minh City.
Relevant agencies caught them red-handed when they attempted to carry 15 Chinese nationals from HCM City to Binh Phuoc's border area late March. All the passengers were without immigration documents.
The drivers admitted that they had carry 140 Chinese nationals from the southern hub to the border region from March 14 until the day they were arrested, earning 108 million VND (4,680 USD).
The case is being further investigated./.
Party chief's article outlines strategic orientations for Vietnam's future: Canadian scholars
Canadian scholars have highly appreciated the thoughts that General Secretary of the Communist Party of Vietnam Nguyen Phu Trong had mentioned in his recent article entitled "A number of theoretical and practical issues on socialism and the path towards socialism in Vietnam".
They said that the article has raised a number of issues with broad and diverse connotations on both theoretical and practical basis, and emphasised that the socialism mentioned in the article is scientific socialism based on the Marxist-Leninist doctrine in modern times.
Professor Julie Nguyen, President of the Canada – ASEAN Initiatives at York University, said that the article showed the heart of the leader who has deep concern for the people and the wish of leaving no one behind, especially in the context that the country is still poor and has to compete economically with the outside world. This is a decisive factor ensuring the people's support to the Party, she stressed.
According to the professor, a socialist-oriented market economy is the right way for leaders to achieve the goal for the people.
She expressed interest in the Vietnamese Party chief's opinion stating that a fundamental characteristic and important feature of the socialist orientation in the Vietnam's market economy is the combination of economy and society, the coordination of economic and social policies, and the economic growth being accompanied by social progress and equality in every stage, every policy, and throughout the development process.
Trong's highlighting the importance of social policies in the socialist-oriented market economy is of special significance in human and human resource development to build the country, and is a strategic direction for the future of the country and the happiness of the people, Julie Nguyen said.
Meanwhile, Luis Silva, an expert on government relations, suggested Vietnam recognise the accompanying rewards and risks as the country seeks to achieve more social and economic progress for its people.
According to the expert, Vietnam has demonstrated how is well-equipped the country is in managing a public health crisis that has gripped the entire world with the outbreak of COVID-19. By applying evidence-based, scientific and technological solutions in the fight against COVID-19, Vietnam has positioned itself as an ideal place in East Asia to attract more investments from the scientific and technological industries in the future as the world slowly emerges from the pandemic.
The opportunities for greater investments in the Vietnamese economy by these industries will provide better standards of living for the Vietnamese people and more prosperity for Vietnam, he said.
Silva noted the potential risks of nationalist governments withdrawing from trade agreements in the future can pose a serious threat to the international investments made in Vietnam, and thus hamper Vietnam's economic prosperity.
Vietnam can minimise the threat of this potential disruption by diversifying and expanding the number of international trade agreements with more countries, he suggested./.
HCM City assures food supply adequate despite Hóc Môn wholesales market closure
Goods from other cities and provinces that were to be sold at the Hóc Môn District agricultural products wholesale market in HCM City that will be shut for a week since yesterday due to  COVID-19 outbreak will now be diverted to Bình Điền and Thủ Đức wholesale markets, according to the city Department of Industry and Trade.
Nineteen cases were detected in the Hóc Môn market and more related to it were found in other localities, and as a result the district People's Committee signed an emergency order suspending delivery of goods there between June 28 and July 4.
To prevent a disruption in the supply of goods, especially food and foodstuffs, the department has instructed modern retail outlets and firms participating in the city's price stabilisation programme to increase the supply of goods to compensate for the temporary closure of the market.
The department and related authorities have promised to keep a close eye on the market to ensure adequate supply and come up with measures to deliver goods to traditional markets or organise wholesale points for traders at traditional markets.
The city will strengthen mobile sales to ensure adequate supply of essential food products to meet the consumption needs of the city.
The department has worked with businesses and districts to ensure no small trader will abruptly increase the price of goods.
Nguyễn Nguyên Phương, deputy director of the department, said the total volume of agricultural products and foods to wholesale markets on June 27 was more than 6,500 tonnes, the same as normal.
Whatever the situation, authorities and key businesses would ensure supply of goods is always adequate, provided people do not hoard since that would put great pressure on supply, he said.
The department said the 1,962 food supply points (106 supermarkets, 220 traditional markets and 1,636 convenience stores) in the city have stockpiling plans in place to ensure the supply of food and essential items is adequate.
With the largest pork wholesale market in the city having to temporarily shut down, retailers said they had plans to increase pork stock to fully meet demand and not increase prices.
A Saigon Co.op spokesperson said on knowing that the Hóc Môn wholesale market would be temporarily closed, Saigon Co.op had doubled the stock of pork at its Co.opmart, Co.opXtra and Co.op Food.
Similarly, Nguyễn Thị Ngọc Thương, sourcing department manager at Bách Hóa Xanh, said her chain had increased the stock of goods in the city by 180 per cent, with a focus on pork, vegetables, tubers, and fruits.
"We can further increase stocks if needed and offer online shopping and home delivery. We will meet demand."
A Vissan spokesperson said the company would increase the supply of fresh pork to make up for the shortfall due to closure of the Hóc Môn market.
Hóc Môn is one of the city's three largest wholesale markets, selling 3,500-4,000 pork, 2,000 tonnes of vegetables and 1,000 tonnes of fruits every day.
HCM City seeks PM's permission to mobilise capital for two Ring Road projects
HCM City is seeking approval from the Prime Minister to speed up implementation of the Ring Road No. 3 and Ring Road No 4 projects, Lê Hoà Bình, the city's vice chairman, said.
Ring Road No. 3 is one of the four important ring roads in Việt Nam's expressway network development plan.
Some sections of the No 3 and 4 ring roads have been built, but the city wants to speed up construction to complete the projects, which were approved 10 years ago.
The city has asked the PM to allow it to mobilise capital and decide on the type of investment mode, such as private-public partnerships, build-operate-transfer, or other forms.
Ring Road No. 3 is expected to help ease traffic congestion in HCM City as well as the transport of goods from Mekong Delta provinces to the Nhơn Trạch industrial zone and Cái Mép-Thị Vải deepwater port.
It will be 92 kilometres long with four sections, including Tân Vạn-Bình Chuẩn, Tân Vạn-Nhơn Trạch, Bình Chuẩn-National Highway 22, and National Highway 22-Bến Lức.
For the current project phase, more than 76 kilometres of the Ring Road No. 3 needs an estimated investment of VNĐ54.29 trillion (US$2.39 billion).
The Tân Vạn – Nhơn Trạch section, which is 8.75 kilometres long, will cost VNĐ6.955 billion (US$302,253), with the entire funding coming from the state budget.
Ring Road No. 4 project will help connect satellite urban areas in HCM City with other localities in the southern key economic zone, contributing to the region's socio-economic development.
The road will be 198 kilometres long, have six to eight lanes, and require an estimated cost of VNĐ100 trillion (US$4.35 billion).
The project is divided into sections, but a feasibility report has only been completed for the Bến Lức-Hiệp Phước section, which will have a length of 35.8 kilometres. It requires an investment of VNĐ20 trillion (US$869.2 million).
Bà Rịa – Vũng Tàu, Đồng Nai, Bình Dương and Long An provinces and HCM City are in charge of research proposals on the 18.3km, 39.45km, 21.9km, 47km, and 16.75km sections of the Ring Road No.4 project, respectively.
Over 1,000 hotels, tourist sites in Dalat closed due to Covid-19
Around 1,000 hotels and seven tourist destinations in Da Lat City in the Central Highlands province of Lam Dong have been suspended due to the lack of tourists.
Since April 27 when the fourth Covid-19 wave hit Vietnam, Da Lat has reported no new Covid-19 patients.
However, to prevent Covid-19 infection, Dalat City has closed many non-essential services and activities such as bars, karaoke and massage parlors, night clubs, game shops, cinemas, night markets, sporting and cultural events and weddings and birthday parties since June 27.
The city has banned mass gatherings at public places, including squares, parks and lakes until further notice.
Local hair salons are permitted to serve customers indirectly, offering home visit services. Restaurants are banned from serving more than 20 people at a time.
Only a few hotels in the Tuyen Lam tourist area are being operated, mostly serving families. The city's room occupancy rate is around 6-7%.
If the pandemic situation does not improve, most hotels in Da Lat City would be closed in the week to come.
Vietnam attends round-table conference of Russia-ASEAN political parties
A Vietnamese delegation led by Politburo member and permanent member of the Party Central Committee's Secretariat Vo Van Thuong attended a round-table conference of Russia – ASEAN political parties on June 29 via a videoconference.
Initiated by the United Russia Party, the event took the theme "The Role of Russia and ASEAN's Responsible Political Forces in Strengthening the Architecture of Security and Cooperation in the Asia-Pacific".
Speaking at the event, Thuong said the Asia-Pacific lies in a location of geographically strategic importance. Though peace, cooperation and development remain a major trend, the region is facing traditional and non-traditional security challenges.
To cope with them, countries need to enhance collaboration on the basis of placing peace, stability and development in the region as the highest principle and goal, settling differences by peaceful means, preventing conflicts and ensuring that each country's interests must be suitable with the common interests of the community, he said.
He highlighted a need to foster understanding and build trust via dialogue and consultation. On issues of concern in the region and the world such as the East Sea, he called for upholding the principles of abiding by international law and the United Nations Charter, strengthening trust and exercising self-restraint, preventing actions that could complicate the situation, refraining from the use of force and threat to use force, and settling disputes by peaceful means.
The shaping and building of regional architectures need the involvement and joint actions of parties concerned, including upholding ASEAN's central role, especially via mechanisms initiated and led by ASEAN, he said.
Thuong shared Vietnam's consistent foreign policy of independence, self-reliance, peace, cooperation and development, multilateralisation and diversification of international relations; treasuring traditional friendship with neighbour countries, strategic, comprehensive and other important partners; actively and proactively make responsible contributions at multilateral mechanisms; contributing to stepping up the process of dialogue, cooperation and building trust initiated and led by ASEAN.
The Communist Party of Vietnam (CPV) highly values ties with the United Russia Party, he stated.
Leaders of parties underscored a need to reinforce Asia-Pacific security architecture and cooperation based on principles of abiding by international law, respecting each other, not interfering into internal affairs and settling disputes by peaceful means.
They expressed appreciation for Russia – ASEAN ties, and vowed to enhance coordination in enviroment protection, sustainable development, dealing with non-traditional security challenges, ensuring fair and equitable access to COVID-19 vaccines.
They also underlined a need to foster international inter-party collboration to further deepen political and socio-economic ties between Russia and ASEAN, and supported common efforts to overcome global challenges and deal with regional issues./.
Vietnamese overseas in Switzerland donate COVID-19 prevention and control fund
The Permanent Mission of Vietnam to the United Nations, World Trade Organisation (WTO), and other international organisations in Geneva has called on the Vietnamese community in Geneva and surrounding areas to support Vietnam's COVID-19 prevention and control fund.
A fundraising ceremony was held at the Mission's headquarters.
Ambassador Le Thi Tuyet Mai, head of the Vietnamese mission, stressed that the Government's priority is to protect the health of people and mobilise all resources to carry out mass inoculation.
She hihglighted the policy and efforts of the State, Government and people of Vietnam in pandemic prevention and control in the country and Vietnam's contributions to international cooperation as well as support for many countries with masks and medical equipment.
In addition, Ambassador Le Thi Tuyet Mai also praised practical contributions by the Mission's staff to the fight against COVID-19 in Vietnam while protecting themselves from the disease to fulfil their tasks.
In 2020, the Vietnamese community in Geneva and surrounding cities raised more than 64 million VND to help people affected by floods in central Vietnam. The Vietnamese in Switzerland mainly live in Berns, Zurich, Geneva, Laussane, and Neuchâtel./.
Polish embassy presents awards for "Wikipedia 2021" contest on Central European countries heritage
The Polish Embassy in Hanoi on June 29 held the award ceremony of the third Wikipedia contest under the theme "Heritages of Visegrad countries."
The Visegrad Group (V4), which comprises four Central European countries: Poland, Hungary, the Czech Republic and Slovakia, was established in 1991. The countries not only share geopolitical similarities, but also many things in common in terms of history, culture and tradition.
Wikipedia is an annual contest hosted and organised by the Polish Embassy in Hanoi. It has received warm response from Vietnamese since its first year. The winner in the first contest was given a 7-day vacation to Poland.
This year, the embassy chose the theme "Heritage of the Visegrad Countries" for its Wikipedia contest to celebrate the 30th anniversary of the establishment of the Visegrad Group (1991-2021) and to mark the success of Poland's rotating Chairmanship of the Visegrad Group (V4). The contest ran from April 1 to June 15, attracting over 1500 entries from 140 contestants nationwide.
The organizing committee awarded one first prize, one second, one third and five consolation prizes to the winners.
Ho Chi Hung, Vice Chairman of the Vietnam-Poland Friendship Association said through the contest, Vietnamese people, especially the young generation, know more about the country, people, culture and heritage of Poland – a sincere friend of Vietnam for more than 70 years, as well as three other Central European countries: Czech Republic, Hungary and Slovakia, thus promoting the friendship between Vietnam and the countries./.
Vietnam, China border guards hold bilateral patrol along border
The Sen Thuong border post in the northern border province of Dien Bien held a bilateral patrol with the Jiangcheng border management company of China on June 29.
The two sides patrolled the border section from Border Mark No.8 to Border Mark No.9 on the Vietnam-China boundary with a length of nearly 7km.
Meeting at the Border Mark No.9, the two sides exchanged notes on the patrol, including the detection of four eroded sites along the border.
They agreed on plans to hold patrols and inspections of the border and border marks, as well as the establishment of a border patrol team on each side.
The two sides informed each other on the management of the border and border marks, along with the political security and social order and safety in their respective border areas.
The two sides pledged to continue coordinating in border management, sovereignty protection and the fight against illegal entry-exit and cross-border crime
Bilateral patrol activities contribute to strengthening solidarity and friendship, and coordination between Vietnam and China, helping maintain good political security and social order and safety in border areas, thus building a peaceful and friendly borderline with long-term cooperation./.
Tree planting – for a green Vietnam programme launch
The Ho Chi Minh Communist Youth Union (HCYU) Central Committee in coordination with the Suntory Pepsico Vietnam Beverage Co.Ltd on June 29 launched a tree planting – for a green Vietnam programme in response to the Government's programme on planting one billion trees by 2025.
The programme aims to raise awareness of union members, youth and people about the role of forests, forest protection, water resources protection, environmental protection issues and response to climate change. It is also expected to contribute to the restoration of watershed forests, development of trees, protection of the biosphere, protection, and regeneration of water sources.
The programme targets the planting and taking care of one million trees in watershed forests in areas often affected by natural disasters, storms, floods, landslides in the 2021 – 2025 period.
Activities will be organised to disseminate and raise awareness of union members and youth about the role and importance of watershed forests, such as the deployment of the green commitment campaign, launching a "million trees" photo contest and "million trees – for a green Vietnam" running event.
At the end of the programme, the Organising Board will conduct some events including visiting and learning about watershed forest ecosystem, animals and plants in the nature reserve.
Bui Quang Huy, Secretary of the Ho Chi Minh Communist Youth Union and Chairman of the Vietnam Student Association, said this is a meaningful programme.
It does not only create conditions for Vietnamese youth to contribute to restoring watershed forests, developing trees, protecting the environment, and responding to climate change, but also helps popularise and improve the awareness and sense of responsibility of union members and youth about the role and importance of trees and forests, as well as the urgency of planting and protecting forests and protecting natural resources, he said.
Huy asked the youth unions at all levels to actively disseminate the message of the programme, focusing on the role of trees and forests on the living environment, negative impacts on the environment, and the urgency to plant, care for and protect the earth's "green lungs".
It is neccessary to call on union members and young people to register for "Green Commitment" and implement "Green Actions"; participate and spread information about the million green tree photo contest and continue to effectively implement the planting and care of trees in their locality, he said./.
Staff of Level-2 Field Hospital No.2 pay homage to late President Ho Chi Minh
Staff members of Level-2 Field Hospital No.2, who had finished their tenure in South Sudan, paid tribute to President Ho Chi Minh during a ceremony held at his mausoleum in Hanoi on June 29.
The ceremony was chaired by Major General Hoang Kim Phung, Director of the Vietnam Department of Peacekeeping Operations.
The delegates also offered incense and laid wreath at the Monument to Heroes and Fallen Soldiers.
Staff members of the hospital left Hanoi in November 2019 to take the United Nations (UN) peacekeeping mission in South Sudan for a year. But due to COVID-19 pandemic, their work was nearly five months longer.
Staff members of the Level-2 Field Hospital No.2. (Photo: VNA)
During their tenure, they provided treatment for nearly 2,000 patients who were UN employees and local people, performed 28 surgeries and safely transferred 11 patients by air.
Vietnam's peacekeeping initiatives have been commended by the UN and international friends, contributing to affirming its position and prestige in the region and the world.
Although Vietnam is quite new to peacekeeping missions, the country has made a positive impression on the international community, the UN, and the missions in South Sudan and the Central Africa Republic./.
New Zealand supports female workers affected by COVID-19
The New Zealand Embassy in Hanoi is working with the Vietnam General Confederation of Labour (VGCL) to provide immediate financial support for 420 female workers from factories in Bac Giang and Bac Ninh which have been economically affected by the recent COVID-19 outbreak.
On June 28, New Zealand Ambassador to Vietnam Tredene Dobson joined a virtual ceremony to officially hand over the financial package to the workers.
Each worker is provided with 1 million VND in cash to help cover some of their immediate needs. This initiative aims to mitigate the impacts of COVID-19 among 420 workers in Bac Giang and Bac Ninh provinces, whose jobs and incomes have been affected by the recent COVID-19 outbreak.
Since April 27, 2021, the fourth wave of COVID-19 has affected many provinces and cities across Vietnam. Bac Giang, Bac Ninh and Ho Chi Minh City are among the most impacted localities. As a result, more than 9 million workers in Vietnam have lost their income and many families have fallen into economic hardship.
In Bac Giang alone, almost 200,000 workers have been off work, of whom 67,000 faced difficulties as they resided in locked-down areas or quarantine sites.
"This project demonstrates the strong partnership between New Zealand and Vietnam," said Ambassador Tredene Dobson.
"This project is a practical initiative to help ease the economic impacts of COVID-19 on the workers and their families. I am proud to say that through the Head of Embassy's Fund, we have been able to support around 3,000 women throughout Vietnam impacted by COVID-19 in the last 12 months."
New Zealand and Vietnam are celebrating 46 years of diplomatic relations this year. Over that time, New Zealand has worked closely with Vietnam to develop shared prosperity and stability, drawing on the best of New Zealand's knowledge and skills./.
Online photo contest on young Vietnamese families launched
An online photo contest on the subject of young family happiness got underway on June 28 in Hanoi to celebrate Vietnam Family Day.
Photos submitted as part of the contest are supposed to capture special moments between families in daily life, along with love between family members.
All photos can be sent to organisers of the Ho Chi Minh Communist Youth Union Central Committee at [email protected] before July 31.
In addition, an awards ceremony is scheduled to take place in Hanoi ahead in late September.
The winner will be awarded a sum of VND20 million, whilst the two second-place prizes and three third-place prizes will receive VND10 million and VND5 million each, respectively.
The most popular photo on social media will win VND5 million in cash.
VN to closely collaborate with Norway at UN Security Council
Vietnamese foreign minister Bùi Thanh Sơn and Norwegian counterpart Ine Marie Eriksen Soreide had a telephone conversation regarding the two countries' relations and cooperation at the United Nations Security Council.
The two diplomats expressed pleasure at the growing ties between Việt Nam and Norway, especially with bilateral trade hitting US$500 million in 2020.
Foreign minister Sơn asked Norway to step up investment into fields of their strength such as maritime transport, shipbuilding, natural gas, renewable energy and aquaculture.
Regarding cooperation at multilateral forums, the two countries' foreign ministers highly valued the cooperation thus far between Việt Nam and Norway, which they see as a result of the two countries' support for multilateralism and international law and also the two countries' shared interests and priorities in women, peace and security, climate change, resolving bomb and mine issues, and protection of civilians in conflicts.
The Vietnamese foreign minister Sơn thanked Norway for its support during the month that Việt Nam holds the rotating presidency of the UN Security Council.
The two foreign ministers shared their concerns over the humanitarian crisis in Syria, agreed on the maintenance of humanitarian aid to the war-torn country and pledged to further collaborate on this issue.
After being informed by foreign minister Sơn over ASEAN's efforts in stabilising the situation in Myanmar, Norwegian diplomat Soreide said would back ASEAN's role and hoped ASEAN would soon implement the five-point consensus reached during the ASEAN leaders' summit earlier this year.
Regarding the 50th anniversary of bilateral diplomatic relations, Vietnamese foreign minister Sơn invited the Norwegian counterpart to visit Việt Nam at the earliest and appropriate time and Soreide gladly accepted the invitation.
No cross infection at HCMC's centralized quarantine centers: HCDC
Most of the Covid-19 cases detected at concentrated quarantine facilities in HCMC had already contracted the virus earlier and did not get it from the others in the facilities, said a representative of the municipal Center for Disease Control (HCDC).
According to HCDC, as of June 27, more than 1,800 Covid-19 cases were found at quarantine centers in the city, with nearly 1,100 testing positive after their first tests, making up 55.8%, and 603 found to be infected with the coronavirus in their second tests, the local media reported.
In addition, 143 Covid-19 cases tested positive in their third tests, 53 in their fourth tests and eight in their fifth tests.
It can be instantly concluded that the 55.8% that tested positive in their first tests were infected by other Covid-19 patients outside the quarantine centers. As for those who tested positive in their second and third tests conducted after the fifth and 10th day of quarantine, respectively, they might have been in the incubation period when they were sent to the centralized quarantine centers.
The Covid-19 incubation period is 14 days, the HCDC representative said, adding that some cases had been found infected with the coronavirus on the 20th day of quarantine.
Up to 96.6% of the Covid-19 cases in centralized quarantine facilities have been detected in their first, second and third tests. The remaining 3.4% might have a longer incubation period or be infected with Covid-19 from their roommates in quarantine centers.
However, investigations showed that no cross infection was found.
According to HCDC, it is important to control those found infected with the virus in the first, second and third tests and prevent them from transmitting the virus to others.
A solution to minimize cross infection in concentrated quarantine centers is to choose venues in which each room has a toilet and two beds at most. The two beds must be at least two meters apart and separated by a partition.
The rooms should be airy and air conditioners should not be used. Moreover, quarantine centers must be disinfected twice a day and equipped with cameras to monitor those quarantined.
Therefore, hotels should be chosen instead of school dormitories.
HCMC has quarantined those in direct contact with Covid-19 cases for 21 days and taken their samples five times on the first, fifth, 10th, 15th and 20th days of quarantine.
Meanwhile, the Ministry of Health asked quarantine centers to test quarantined people four times on the first, seventh, 14th and 20th quarantine days.
In addition, the city has conducted quick tests between the RT-PCR tests to detect Covid-19 cases at the earliest, said the HCDC representative.
Thanh Hoa Province receives, performs quarantine for Vietnamese workers overseas
From midnight of June 28 to the morning of June 29, Thanh Hoa Province received and implemented quarantine for over 300 Vietnamese workers overseas.
Accordingly, over 300 Vietnamese employees came back to the country from Japan.
After the workers entered Vietnam at Noi Bai International Airport, they were taken to the Center for Defense and Security Education under Hong Duc University in Thanh Hoa Province for the quarantine.
As soon as receiving them at the isolation areas, the functional forces performed disinfection for all vehicles and goods, instructed health and personal information declaration, checked the temperature and arranged the accommodations for the workers.
It is expected that Thanh Hoa Province would receive and conduct the quarantine for additional 343 Vietnamese people abroad on June 30.
Source: VNA/VNS/VOV/VIR/SGT/Nhan Dan/Hanoitimes
VIETNAM NEWS HEADLINES JUNE 30 have 8712 words, post on vietnamnet.vn at June 30, 2021. This is cached page on Health Breaking News. If you want remove this page, please contact us.