Over 300,000 people escape illiteracy in eight years
Literacy classes have been organized for more than 300,000 people aged 15 – 60, over the last eight years, the Ministry of Education and Training unveiled during a recent video teleconference (VTC).
The national VTC was held on June 18 to review the implementation of a project on building a learning society from 2012 – 2020.
The ministry said thanks to the project, the network of educational establishments was expanded nationwide. The country now has over 17,000 continuing education centres, providing non-formal education for out-of-school youth and adults.
There are also more than 10,000 community learning centres across the country.
The country has completed universalisation of pre-school education for five-year-old children and primary education for children of school age.
In the next phase from 2021 – 2030, the project aims to help Vietnam develop an open, flexible and connected education system and make sure all people will have an equal opportunity to access high-quality life-long education.
Vietnam met the national standard for literacy in 2000, with 94 percent of the population aged between 15 and 35 literate, compared to more than 95 percent of the population being unable to read or write in 1945. The literacy rate in this age group increased to 98.1 percent in 2016, according to the Ministry of Education and Training./.
Two COVID-19 cases aboard plane carrying Vietnamese footballers
The Ministry of Health on June 20 confirmed two positive COVID-19 cases on board a plane carrying the national football squad back from the United Arab Emirates.
They tested positive for the SARS-CoV-2 virus on June 19 and were transferred to Da Nang Lung diseases Hospital for medical surveillance and treatment.
Notably, all 42 members of the national football squad and 13 reporters also boarded the same flight from the UAE to Vietnam after completing the second qualifying round of the World Cup 2022 for the Asian region.
After stopping over in Da Nang to release passengers, the plane continued its itinerary to take the squad to Ho Chi Minh City as the last destination.
The squad were placed at a local hotel and they all first tested negative for the virus, according to the Vietnam Football Federation (VFF) on June 20.
They will undergo the second test on June 23.
All members of the coaching board and players had been vaccinated twice before they left for the UAE.
HCMC proposes railway connecting Tan Son Nhat and Long Thanh airports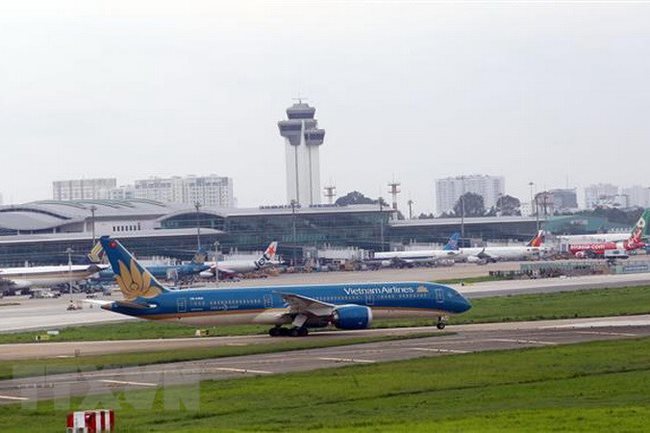 A view of the Tan Son Nhat International Airport in HCMC. The municipal government has proposed a railway connecting the TSN airport and the Long Thanh International Airport – PHOTO: VNA
The proposal was included in the city's suggestions to the national railway system development plan in the 2021-2030 period with a vision to 2050 drafted by the Vietnam Railway Authority, the local media reported.
Accordingly, HCMC proposed the railway would run along Pham Van Dong Street to the Trang Bom-Hoa Hung railway and Ring Road No. 2 in Thu Duc City and connect to the Thu Thiem-Long Thanh light railway at an intersection of Ring Road No. 2 and the HCMC-Long Thanh-Dau Giay Expressway.
Besides this, HCMC also proposed the Ministry of Transport direct a consulting firm to study the connection of metro line 4b with the T1, T2 and T3 terminals of the Tan Son Nhat International Airport.
Dossiers for the metro line No. 4 project, connecting Gia Dinh Park in Go Vap District and Lang Cha Ca Intersection in Tan Binh District, are being completed. The 3.2-kilometer metro line was designed to be an underground one and have three stations.
Earlier, the consulting firm had proposed two plans for the development of a railway connecting the two airports by lengthening metro line Nos. 2 or 4b.
However, according to the HCMC government, the lengthened metro line 4b will pass through densely populated areas such as the Thanh Da and An Phu residential areas and Rach Chiec and An Phu intersections.
The solution will create a new route which has yet to be included in the city's urban planning, thus affecting many projects in the city. In addition, two railway bridges spanning the Saigon River must be added.
As for the other solution, the second metro line project has been approved and is being executed.
To connect the two airports, the HCMC-Long Thanh-Dau Giay Expressway will be expanded with an estimated investment of nearly VND10 trillion. Moreover, provincial road 25C with a length of over 14 kilometers will be developed.
Dong Nai and HCMC are also working on a plan to build the Cat Lai Bridge to replace an existing ferry.
Social distancing imposed in Binh Duong localities
The southern province of Binh Duong has applied social distancing measures in Thuan An City and Tan Uyen Town from Sunday midnight amid the Covid-19 outbreak.
Under the measures in line with Government Directive 16, people are required to stay home and not to engage in public gatherings of more than two people.
People could only leave home in emergency cases, buying food and medicine or working in factories, production facilities, State agencies, armed forces, diplomatic bodies or businesses involved in the trade of essential goods and services.
People must wear face masks when leaving their houses and keep a two-metre distance. They are also encouraged to work at home if possible.
Nguyen Thanh Tam, chairman of Thuan An City, said that the locality has seen a rise in locally-infected Covid-19 cases. In response, local authorities decided to apply social distancing measures which would last until further notice.
On Sunday, Binh Duong detected 14 new Covid-19 cases, raising the province's total number of locally-infected patients to 87.
Danang seeks to offer special loans to tourism workers
The Danang City government will have a preferential policy for tourism workers who want to borrow money, up to a maximum of VND100 million, to overcome difficulties.
By late last year, 38,717  of 50,963 tourism workers were laid off or unemployed since the Covid-19 pandemic broke out in Vietnam in 2020.
From the beginning of 2021, the tourism industry showed signs of a recovery. Workers began to return to work. However, the pandemic broke out again in late April 2021 in Danang. More than 11,802 out of 24,248 employees in the tourism industry have been laid off, according to the latest statistics provided by the Danang Department of Tourism.
To help eliminate the difficulties plaguing workers, the Danang Tourism Promotion Fund has organized meetings with the Social Policy Bank in Danang, the Danang Tourism Association as well as corporate members, the Department of Finance and other related agencies to discuss solutions.
Reportedly, the Department of Finance has issued a document on a consultation on the loan proposal for tourism workers who need to borrow money with a maximum loan worth VND100 million and an interest rate of 7.92%.
"We are now calculating the demands of workers in the industry till June 22, 2021," said Dang Viet Dung, honorable chairman of the fund.
Speaking to The Saigon Times, Nguyen Xuan Binh, Deputy director of the Danang Tourism Department, confirmed this information, saying that related departments have been revising regulations to report them to the municipal city's leaders for a final approval.
"The 4th outbreak of Covid-19 has severely affected the city's tourism industry. Tourism and service businesses had to shut down or operate perfunctorily and lay off workers. Besides, many workers have had to actively switch to other jobs to earn a living," said Binh. "Therefore, this can be considered as one of the humane policies of the city government to help tourism workers overcome this difficult period."
In addition, according to Binh, the Department of Tourism will continue to coordinate with the Danang Tourism Association and other relevant units to advise the city on other solutions to better support businesses and their employees.
The department provided a list of tourism workers to the Center for Disease Control in Danang for vaccination and to prepare them for training courses, paving the way for normal operations again once the pandemic is controlled.
Hanoi consults experts on cultural industry development
Domestic and international experts gathered at a round table held by the Hanoi Party Committee on June 18 to discuss Hanoi's cultural industry development for the 2021-2025 period, with a vision to 2030 and 2045.
Hanoi has great potential to develop its cultural industry, especially the system of monuments, heritages, craft villages, museums, theatres and art troupes. However, the Hanoi cultural industry is still in its infancy.
Notable limitations include a lack of a specialised database and information for the cultural industry, highly effective specialised linkages, and professional and managerial skills, while the investment mechanism for the cultural industry is still unreasonable.
In particular, Hanoi is still in lack of a financial investment mechanism and an "ecosystem" in which the cultural and creative industry can develop. This is a new field and it requires a breakthrough in human resource training and investment policy.
Deputy Secretary of the Hanoi Party Committee Nguyen Van Phong emphasised that culture and the development of the cultural industry are not only a driving force but also an important resource for the sustainable development of the capital city.
In the field of creativity and cultural industry development, Phong affirmed that Hanoi always considers the subjects of this process as enterprises, artists, artisans and the masses. The State plays the role of creating a legal corridor and supporting conditions for creative subjects to devote themselves to and enjoy the creative process.
The Hanoi leader also vowed to create a favourable environment and ecosystem for innovation and development of cultural industries. Hanoi also commits to actively seek out valuable units, organisations and creative models for cooperation and development.
Intra-provincial tourism cautiously resumes in many localities
The fourth wave of COVID-19, hitting Vietnam from the April 30-May 1 holiday, has completely frozen the tourism industry. However, since June, with the pandemic basically under control in many cities and provinces, authorities of some localities have loosened restrictions on outdoor services and activities, with many tourism sites having reopened to intra-provincial visitors, contributing to alleviating the difficulties faced by the tourism sector.
After more than a month without recording any new community infections, from June 8, the northern province of Quang Ninh has allowed the resumption of selected types of business with the requirement of ensuring pandemic prevention and control in the new normal.
Taking advantage of the golden time of summer tourism, Quang Ninh is planning to exploit community-based tourism in combination with sea and island tourism, as well as to boost tourism stimulus in preparation for welcoming visitors from outside the province when conditions allow.
After Quang Ninh, the northern port city of Hai Phong has also allowed tourist areas and attractions to reopen from June 13, but only to serve those living and working in the locality.
In central cities and provinces, tourism activities are also gradually returning.
After 21 days without detecting new COVID-19 cases in the community, Da Nang has allowed beaches, restaurants and eateries to reopen from June 9, with restrictions on mass gatherings. However, the beaches are open at certain times, and people can only swim in the areas permitted and have to leave immediately after bathing. Freshwater bathing; gathering for entertainment, sports, eating and drinking, and vender services are prohibited at beach areas.
Quang Nam has also resumed tourism activities with prudence. Accordingly, the province has only reopened part of the Hoi An – Cu Lao Cham – My Son Sanctuary sight-seeing route.
According to the Quang Nam Provincial People's Committee, the pandemic has now been basically put under control in Hoi An, but the city has yet to consider reopening the Ancient Town. It will continue to monitor the COVID-19 situation and decide on the full reopening at an appropriate time.
Thua Thien-Hue has allowed historical and cultural relics, tourist attractions and scenic spots to reopen to intra-provincial travellers from June 11, ensuring pandemic prevention and control regulations, a minimum distance of one metre from each other, and a maximum of 50% serving capacity.
Previously, the People's Committee of Quang Binh Province approved the resumption of sightseeing, tourism and entertainment activities for intra-provincial visitors from May 29. Non-essential services have also been resumed at a scale of below 20 people.
Many local travel businesses have developed and deployed tours for local people, such as a tour to explore nature and camp overnight designed by Oxalis Adventure Company for groups of families.
Sea swimming has reopened in Tuy Hoa City, Phu Yen Province as of June 17, from 4-9am every day. People are only allowed to swim in the prescribed areas, and must not gather in large crowds, while recreation, sports, catering, and vendor activities are not permitted at beaches. People must keep a distance of at least one metre from each other, and must wear face masks before and after swimming.
In Hanoi, the tourism industry is also proactively looking for solutions to restore tourism. The municipal Department of Tourism has connected providers of tourism, aviation and railway services to implement a programme to upgrade tourism products and destinations, and build new, unique and attractive products to attract domestic visitors.
In order to continue effectively implementing the dual goal of pandemic fight and socio-economic development, as of June 14, a number of golf courses in some provinces and cities, such as Hai Phong, Quang Ninh, Ninh Binh, Hoa Binh, and Thanh Hoa, have been allowed to reopen.
However, most golf courses only accept intra-provincial visitors, and players from other localities need to show a COVID-19 vaccination certificate or a negative test result for COVID-19.
The People's Committees of localities all require golf course management units and visitors to the courses to strictly and fully implement COVID-19 prevention and control measures as prescribed.
Accordingly, visitors must fully comply with body temperature measurement, medical declaration, disinfection, and face mask wearing before entering the courses, while keeping a safe distance from each other during their play time.
Anti-pandemic solutions have been activated with many layers, including disinfecting the entire course area and trams every day; regular temperature measurement and medical declaration; strictly adhering to face mask wearing; and maintaining distance between customers. Public areas such as check-in sections and restaurants will mark the distancing position according to the Health Ministry's regulations.
In the context of the pandemic remaining complicated, despite having reopened some intra-provincial tourism activities, localities remain cautious and are strictly implementing and monitoring the observance of the Health Ministry's 5K regulations. In parallel with focusing on exploiting the intra-provincial tourism market, localities are also developing scenarios to welcome back tourists from outside the province when the pandemic is brought under control.
National futsal team to compete at tournament in Spain
Vietnam will take part in an international four-side futsal tournament in Spain in August in preparation for their World Cup campaign.
The team just completed a 21-day quarantine period in Ho Chi Minh City and returned home on last week after qualifying for the event in the UAE in May.
They will join their club teammates to compete on the second leg of the National Futsal Championship in mid-July if the COVID-19 pandemic is put under control, according to Tran Anh Tu, head of the Futsal Department of the Vietnam Football Federation (VFF).
The national team will have their next training camp in early August. They will have a training course in Spain from August 25. At the tournament, Vietnam will play Japan, Guatemala and the hosts.
Before leaving for the Lithuania World Cup from September 12 to October 3, they are expected to have a game against a leading Spanish club.
The VFF is also in discussions for a friendly match with the Moroccan national team on September 6.
Vietnam will play Brazil in their first group stage match on September 13.
According to the organisers, VAR will be used at this year's World Cup./.
SABECO to sponsor national football teams for one year
The Saigon Beer-Alcohol-Beverage Corporation (SABECO) has agreed a deal to sponsor Vietnam's national football teams for one year.
The sponsorship deal was signed between SABECO, the Vietnam Football Federation (VFF) and the VTVcab Sport Development Joint Stock Company (VTVCab Sport) in Hanoi last week.
As part of its sponsorship, running from June 2021 to June 2022, SABECO will be the exclusive sponsor in the beer industry of the men's and women's national teams, and the U22, U23 and Olympic squads for both national and international competitions.
"We are proud to support the national football teams in their journey towards greater success and share their goal of bringing glory to the country," said Bennett Neo, SABECO General Director.
Over the last few years, the Vietnamese national football team has seen tremendous success in various international competitions. Most recently, the team advanced to the third round of World Cup qualifiers for the first time in history.
"We are happy to partner with such a prominent Vietnamese brand such as Saigon Beer," said VFF General Secretary Le Hoai Anh.
"This partnership will bring further support to and motivation for, our players, and help in the development of Vietnamese football as a whole."
Sports sponsorships have always been a key part of SABECO's 4C sustainable development strategy.
SABECO previously sponsored the Vietnamese delegation to the 30th Southeast Asian Games (SEA Games) in 2019. It has also sponsored various local sporting events such as 2020 Tien Phong Newspaper Marathon National Championship as well as international events including the 2018 AFF Suzuki Cup.
Meanwhile Bui Huy Nam, General Director of VTVCab, shared: "VTVcab is proud to be the only cable TV that produces and broadcasts all worldwide and national most-watched sports leagues, as well as all matches involving Vietnamese national teams.
"Aside from content distribution across a multitude of platforms, VTVcab confirms its significant interest in football, paving the way for VFF to become a long-term strategic partner. It is an honour to walk with SABECO as a supporting partner in order to maximise the media's effect in support of the Vietnamese national football team's achievement."/.
AstraZeneca COVID-19 vaccine effective against Delta variant
New data from Public Health England (PHE) has demonstrated that the AstraZeneca COVID-19 vaccine offers high levels of protection against the Delta variant (or B.1.617.2, formerly known as the Indian variant), AstraZeneca has said.
Real-world data demonstrated two doses of the vaccine were 92 per cent effective against hospitalisation due to the Delta variant, and showed no deaths among those vaccinated.
The vaccine also showed a high level of effectiveness against the Alpha variant (B.1.1.7; formerly known as the 'Kent' variant) with an 86 per cent reduction of hospitalisations and no deaths reported.
The data suggested that vaccine effectiveness against milder symptomatic disease, although significant, was lower. Vaccine effectiveness against symptomatic disease was 74 per cent against the Alpha variant and 64 per cent against the Delta variant.
The higher efficacy against severe disease and hospitalisation is supported by recent data showing strong T-cell response to the COVID-19 AstraZeneca vaccine, which should correlate with high and durable protection.
Mene Pangalos, Executive Vice President for BioPharmaceuticals R&D, said: "This real-world evidence shows that the AstraZeneca vaccine provides a high level of protection against the Delta variant, which is currently a critical area of concern given its rapid transmission. The data show that the vaccine will continue to have a significant impact around the world given that it continues to account for the overwhelming majority of supplies to India and the COVAX facility."
The analysis included 14,019 cases of the Delta variant, 166 of whom were hospitalised, between April 12 and June 4, looking at emergency hospital admissions in England.
The real-world evidence against the Delta variant, was based on limited follow-up after the second dose, which could impact the effectiveness estimate.
The AstraZeneca vaccine was co-invented by University of Oxford and its spin-out company, Vaccitech. It uses a replication-deficient chimpanzee viral vector based on a weakened version of a common cold virus (adenovirus) that causes infections in chimpanzees and contains the genetic material of the SARS-CoV-2 virus spike protein. After vaccination, the surface spike protein is produced, priming the immune system to attack the SARS-CoV-2 virus if it later infects the body.
The vaccine has been granted a conditional marketing authorisation for emergency use in more than 80 countries across six continents. More than 500 million doses of the AstraZeneca vaccine have been supplied to 165 countries, including more than 100 countries through the COVAX Facility.
Dossier completed for national treasure to seek documentary heritage recognition
The Huế Monuments Conservation Centre has completed a dossier for the national treasure of cửu đỉnh (Nine Dynastic Urns) to seek UNESCO recognition , said Dr Lê Thị An Hòa from the centre.
The dossier will be submitted to the Ministry of Culture, Sports and Tourism for consideration and recommendations before seeking UNESCO's recognition.
The intact urns, placed inside Thế Tổ Temple in the Huế Imperial Citadel more than 200 years ago, are all cast in bronze. Each one is about two metres tall and weighs 2,600 kg, commemorating a king of the Nguyễn Dynasty, which ruled Việt Nam from 1802 to 1945.
They were recognised as a national treasure in 2012, and considered the most valuable bronze works in Việt Nam.
Outstanding symbols of the country's immortal reign and wealth, the urns were cast in late 1835 and completed in early 1837, under the reign of King Minh Mạng.
The urns can also be considered a "geographic encyclopedia" of Việt Nam in the 19th century with 162 carved patterns exquisitely embossed on their surface depicting landscapes and daily activities across the country, including 90 images of typical plants and animals.
Of note, the country's sea and islands were carved on the three largest and most significant urns. The East Sea is depicted on the "Cao Urn", the one positioned in the very middle and higher than the others, which is dedicated to King Gia Long, the first king of Nguyễn Dynasty. The southern sea appeared on the Nhân Urn, and the western sea on the Chương Urn.
Alongside various ancient documents, the patterns on the urns serve as a valuable historical source affirming Việt Nam's sovereignty over Hoàng Sa (Paracel) and Trường Sa (Spratly) archipelagos.
Hanoi outdoor temperature reaches up to 60 degrees centigrade
Hanoi is experiencing scorching hot days with recorded temperatures of 60 degrees centigrade outside.
According to the National Centre for Hydro-Meteorological Forecasting, the northern region's ongoing hot spell would last until June 22. Many localities have had highest temperatures of 38-41 degrees centigrade lasting between 10-19 hours per day. The temperature in Hanoi has hit more than 50 degrees centigrade in the early afternoon these days. A person in Hoan Kiem District even measured the temperature at roughly 60 degrees centigrade on Sunday afternoon.
The heatwave in northern localities has been forecasted to end from June 23 with temperatures gradually falling in the central region from the day.
The blazing hot weather has raised fire warnings, particularly in areas with high demand for electricity use and forest fires in the central region.
Health experts recommend people wear protective clothing, including long-sleeved shirts, collared jackets, trousers, and wide hats to cover their face, neck and ears.
People should wear sunglasses with UV protection.
Cameras to be used to protect Gia Lai forest
Authorities in Gia Lai Province have suggested installing cameras to protect the local forest.
The forest in Hra Commune, Mang Yang District has recently been heavily damaged. The site is only 5km away from Hra Commune People's Committee's headquarters, yet the local authorities said they didn't know anything.
On June 2, the Forest Protection Department of Gia Lai Province, Forest Protection Department of Mang Yang District and Hra People's Committee worked together to catch the illegal loggers.
According to a report released at the meeting, eight crates of timber have recently been seized. The authorities then discovered 24 newly-cut trees with diameters of 15-67cm.The police have detained four suspects and seized timber, four motorbikes and one sawing machine. The investigation is being expanded.
Mang Yang District People's Committee ordered the police and forest rangers to search for the loggers and investigate the case.
Tran Dinh Hiep, party secretary of Mang Yang District, said, "We have asked to review the patrol schedules of the teams in 12 communes. Individuals and units that showed lax management have been reprimanded."
Several solutions have been proposed including creating ditches and installing cameras at vulnerable locations. The CCTV cameras will help authorities notice if there are any suspicious people in the forest, especially in areas with valuable trees.
Mang Yang Forest Protection Department will complete the procedures and make a proposal to allocate the forest to the villagers of De Kon or the Management Board of Ha Ra Protection Forest to manage and help to monitor the forest.
Tran Thanh Tuan, Chairman of Hra People's Committee, said, "We lack personnel to patrol the forest."
Hra Commune People's Committee said they would hold a meeting with the Management Board of Ha Ra Forest, MDF Company and Kong Chieng Forestry Company to discuss the best way to protect the forest.
First national high school graduation exam dates announced
The Ministry of Education and Training announced that the first dates for the 2021 national high school graduation exams will be on July 7-8.
Students who are not affected by the ongoing Covid-19 outbreak in Vietnam will take the exams on July 7-8.
Students who are F0, F1, F2, or live in locked-down areas will take the exams later. The dates will be announced later based on proposals from local authorities. The local authorities were asked to review the number of students affected by Covid-19 and submit the list to the ministry by July 5. Staff that organise the exams will be vaccinated.
Mai Van Trinh, Director General, Vietnam Education Quality Management Agency, said their utmost priority is safety for everyone. The exams this year will be easier as the curriculum was trimmed down as the students had to learn from home. However, there will still be hard and tricky questions to help differentiate the results. The ministry already released a set of reference tests on all subjects to schools.
The ministry of education and training and departments of education and training will set up their own inspection teams to ensure that the exams will be carried out smoothly.
Quang Ngai announces 21-day quarantine for travelers from Da Nang
The People's Committee of the central coastal province of Quang Ngai has imposed 21-day self-isolation at home for arrivals from Da Nang City and asked those coming from HCMC to enter centralized quarantine camps, starting at 12 p.m on June 20.
The regulation is part of measures to prevent a new wave of coronavirus.
If residents did not consciously sefl-isolate at home or private accommodations after returning from HCMC less than 21 days, they will be forced to implement quarantine period at centralized facilities.
Heads of localities have to take responsibility in front of the provincial People's Committee for their subjectivity that can cause the epidemic break out.
Business services of food and drinks, accommodation, oil and gas, essential goods and others that have transactions with their partners and customers in disease-hit areas located along national highways have to commit to strictly carry out preventive measures and be banned from providing sit-down table service.
HCMC suspends street markets, public passenger transport service
The People's Committee of HCMC on June 19 has announced to suspend temporary street markets, taxis, App-based cars and motorbikes transporting passengers, city buses and trans-provincial coaches amid continuing Covid-19 transmission.
Prevention and Control and chaired by Deputy Chairman of HCMC People's Committee Duong Anh Duc who has been appointed as the leader in the combat against Covid-19 in the city, in the late evening of June 19.
Accordingly, besides previous decisions on ordering the closure of non-essential businesses and all non-essential activities, the municipal authorities decided to close all types of public road and waterway transport services, imposed safe social distancing measures at traditional markets.
Social gatherings of more than three people at public areas, excluding workplaces, schools and hospitals will be illegal while people have to keep at a safe distance of 1.5m .
Residents have been required to stay at home and limit non-essential travel, except for essential needs of food, medical coverage, workers at businesses manufacturing goods necessary, and other urgent and essential purposes.
Businesses manufacturing of goods necessary have been allowed to continue to operate in ensuring they follow control and prevention measures, such as asking employees to keep a distance of at least 1.5m and wear masks, cleaning and disinfecting in the workplaces regularly, signing an agreement on complying with Covid-19 rules with the local People's Committees, enterprises' owners taking responsibility for implementation of control and prevention measures and guaranteeing health and safety for employees at the companies.
State offices have to ensure the social distancing guidance while Foreign Invested Enterprises must carry out the maximum limit of direct contact, move work online and implement strictly the health ministry's 5K messages of face mask, disinfection, distance, no gathering, and health declaration.
The municipal government also set a restriction on non-essential meetings, except for very important meetings that have to be allowed by the local authorities and observe strictly safety guidelines.
HCMC's government has imposed specific prevention and protection measures at some blocked sites, including the quarters of 2,3,4 in Binh Tan District's An Lac Ward, the hamlets of 2,3, a part of Thoi Tay 1 in Hoc Mon District's Tan Hiep Commune in two weeks, starting at 0:00 am on June 20.
Strict rules will be implemented at the high-risk areas for spreading the coronavirus.
The city has prepared treatment plans for the worst-case scenario in which 5,000 Covid-19 patients would be recorded, stressed Deputy Chairman of HCMC People's Committee Duong Anh Duc at the conference.
Contactless delivery in pandemic in HCMC
The information that a GrabBike driver in Ho Chi Minh City was infected with the SARS-CoV-2 virus recently has made both ride-hailing drivers and users worried. In the context that e-commerce activities are encouraged to limit the spread of the Covid-19 pandemic, this information raises questions on the pandemic prevention in the delivery activity when shopping online.
On Saturday morning, I opened the app to book a Grab ride. Picking me up was Hung, a 23-year-old driver, full of coat and facemask in accordance with regulations. When I asked about his work situation during the pandemic, he lamented that the nature of his job is to have to carry a lot of people, and he cannot ask his passengers to keep a distance of 2 meters. Despite the pandemic, he still regularly opens the app and receives customers every day because this is his main income-generating job. He said that he would go home immediately when he feels tired instead of gathering in the street to chit-chat with his fellow drivers as before.
These days, eateries are not allowed to serve diners directly, so people can only order food online. Nguyen Hoang, a food delivery worker, said that many people make payments in advance by bank accounts or e-wallets and restrict contact when receiving food. Hence, delivery workers are also somewhat feeling safe. However, for customers who pay by cash or receive food directly, he cannot reject them either.
Due to the pandemic, Ms. Thanh, 58, in Go Vap District, started doing business online a few months ago. She said that currently, whenever she receives calls from delivery workers, she leaves the packages ready in front of her house and stands 2 meters away, waiting for them to pick them up. "Doing that is to respects your health and your family," she said.
During these days, in the street, ride-hailing drivers still hustle back and forth. Previously, the delivery of goods often came with greetings, and everything was comfortable and friendly, but now all must be quick to prevent the pandemic. Tang Truong Giang, a 35-year-old delivery worker in District 8, said that he works for a postal unit during the day, and he is a food delivery worker at night. He said that he usually searched for information that whether the place he was going to deliver goods is blocked or not, then called his customers to verify if they could receive the packages. If they could not, he suggested his customers asking their acquaintances to get the goods for them. Although doing that is time-consuming and costly than normal, and sometimes he has to cancel the orders, because of the pandemic, he has to accept it.
Ho Thong, a 40-year-old Grab's partner, said that the company stipulates that when delivering goods, delivery workers must keep a distance of 2 meters away from customers. He always carries hand sanitizer and does not talk to customers. Before making the delivery, he always texts via the app or calls his customers to confirm the orders. As for blocked areas, he uses the contactless delivery feature that the ride-hailing service company offers. The two parties will agree to put the package at an intermediary point so that they do not have to meet each other. When taking food from the eateries and delivering it, he keeps his distance and washes his hands after receiving the money. He always wears a facemask, even when taking a nap. He said that sometimes things do not go well, he also feels tired because everything is more complicated than before, but he has to try his best.
The pandemic situation is tense, so some ride-hailing drivers have temporarily stopped working due to safety concerns. On forums and groups of drivers, drivers also shared their worries when carrying passengers and delivering goods during the pandemic. Some drivers have turned off the app, not accepting passengers. Some drivers have switched to sell fruits or find other jobs. Except for those who become ride-hailing drivers to earn extra income, this is the main livelihood for most of the remaining drivers. Now they stop working, and it will also affect their bread and butter.
According to the Department of Transport of Ho Chi Minh City, there are 170,000 active ride-hailing drivers in the city. They are at high risk of exposure because they have to move a lot to serve the needs of the people.
Previously, in May this year, the Department of Transport of HCMC sent an official letter to request ride-hailing and delivery service providers to ensure Covid-19 prevention measures and comply with safety rules.
There are many opinions that delivery workers should be vaccinated against Covid-19 soon.
Vietnam aims at herd immunity in 2022
The Ministry of Health, on June 19, organized an online training on Covid-19 vaccine safety for health departments and provincial medical examination and treatment facilities to prepare for the largest ever Covid-19 vaccination campaign in the country.
This Covid-19 vaccination campaign aims to vaccinate 70 million people in Vietnam to create herd immunity by 2022. At the training session, Prof. Dr. Tran Van Thuan, Deputy Minister of Health, stated clearly that to ensure the work of vaccination, the health sector must put effort at every stage from closely monitoring the storage and transportation of vaccines to ensure the best quality of vaccines; ensure safe vaccination and vaccination for the right subjects; quickly and effectively handle cases of post-injection reactions.
Talking to the press, Minister of Health Nguyen Thanh Long said that this Covid-19 vaccination campaign has many differences. Specifically, the campaign not only deploys vaccination sites in all communes and wards across the country, but also organizes more mobile vaccination sites at factories, schools, and some other areas to ensure that the people access vaccines most conveniently and easily. Especially, this vaccination campaign has the participation of all ministries and agencies, especially the Ministry of National Defense, the Ministry of Public Security, the Ministry of Information and Communications, the Ministry of Transport, to accompany the Ministry of Health. At the same time, this vaccination campaign will enhance the application of information technology to implement effectively.
Source: VNA/VNS/VOV/VIR/SGT/Nhan Dan/Hanoitimes
VIETNAM NEWS HEADLINES JUNE 21 have 6040 words, post on vietnamnet.vn at June 21, 2021. This is cached page on Health Breaking News. If you want remove this page, please contact us.