Viet Nam News
An auto mechanic working on a mountain pass is very proactive about assisting accident victims, leaving his number on the roadside as a hotline that people can call, Văn Phương reports
For almost 10 years now, auto mechanic Đinh Văn Hoàng has been offering an additional service 24/7.
He saves lives.
The resident of Măng Khênh Village in the central province of Kon Tum makes a living fixing vehicles that break down on the Lò Xo Mountain Pass.
Located on National Highway 14 between Quảng Nam and Kon Tum provinces, the Lò Xo has the dubious distinction of being called the "fatal mountain pass" due to its dangerous terrain and foggy conditions all year round.
Hoàng is always busy repairing vehicles, in a dilapidated house in Măng Khênh Village, but the minute he gets news of an accident on the pass, the 30-year-old mechanic drops everything else, picks his bag and heads to the site, no matter what time is it, day or night, or what the weather conditions are, hot summer or freezing winter.
"This is work worth doing. We have to help anyone who's in trouble, no matter who they are," he says.
Hoàng, in the central province of Thanh Hóa, followed his siblings to settle down in Măng Khênh Village 10 years ago. He opened a small garage and grocery store with his wife to earn a living and raise his two children.
It was an accident that occurred a year after he had moved to Măng Khênh that motivated him to do what he does now, provide an unpaid rescue service.
It was a pitch-dark night and Hoàng was at home when he heard about a traffic accident at one end of the Lò Xo Pass.
He was recovering from a stomach operation then, but all he could think of was to provide whatever help he could. Along with his sister, he rushed to the site.
The victims, a driver and his assistant were lying motionless. Hoàng carried each of them on his shoulders up the steep 40m slope to the road above. Unfortunately, the wounds were severe and they could not be treated in time. They died.
"Why did they have to die?"
The question has occupied Hoàng's mind ever since. "If someone or I had arrived in time, their lives could have been saved."
Now, he writes his phone number on the roadside along the fatal mountain pass and keeps his phone open all day long. As soon as he is notified, he rushes to the accident site with hammer, crowbar and jack.
In all the years that he has been working as a volunteer rescuer, Hoàng has lost count of how many people he has saved or how many times he has joined rescue efforts. He is only sure that he has been present every time there has been an accident on the Lò Xo Pass.
In each case, after being taken out to a safe position by Hoàng, the victims are rushed to the hospital by the police, and he returns home to resume his normal life.
He said he does not pay much attention to what others say or think about him; he only thinks about saving as many lives as possible.
"The accident I remember most is the coach with the licence plate 48B.000.16, which plunged down with 42 people inside. It was around noon, on June 23, 2015.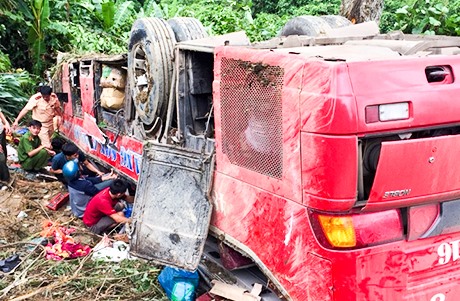 Extricating work: One of the severe accidents on the Lò Xo Mountain Pass that Đinh Văn Hoàng remembers the most. It took him over four hours to take the final victim out of the coach. The accident claimed only one life, the rest were saved. Photo baokontum.com.vn
"It was drizzling when the accident took place in Phước Sơn District, six kilometres from my house. I hurried to the scene and climbed down the abyss. I was used now to dealing with such circumstances, so the most severely wounded people were the priority.
"But I had limited knowledge about cars, so on sneaking inside, I had to telephone a policeman to ask which part of the coach should be cut first or later to ensure safety.
"The coach had a big battery… and the electricity was still working, so it was very dangerous, and I had to be very careful."
It took Hoàng over four hours to take the final victim out of the coach. His muscles were sore for many days after.
The accident claimed only one life, and the rest were saved, thanks to Hoàng's timely arrival and efforts.
In a recent rescue, he saved a person who was in a very critical condition. A lorry carrying at full capacity sand overturned as it passed the mountain pass in the middle of the night, and the driver was stuck inside. It took two hours to get him out.
"I saw he was pale cold and weak because he had lost a lot of blood. I immediately took off my coat to wrap him. Then the police took him to the hospital in time, so he was saved in the end." Hoàng says.
He has never expected anything back from the people whose lives he has saved.
"I don't need anyone to pay me back anything. As long as we help people, someone will certainly help us."
Nguyễn Ích Hòa, lieutenant-colonel at the Ngọc Hồi Traffic Police Station, said local police have called Hoàng for help in nearly all traffic accidents and saved hundreds of lives.
"He is very strange. On the accident scene, he works enthusiastically, but then without any notice, returns home after all the victims have been saved. Therefore, few victims are aware that Hoàng is their savior." VNS
Making a living, saving lives: par for the day have 1133 words, post on at March 18, 2017. This is cached page on Health Breaking News. If you want remove this page, please contact us.