Current and former workers say this new Microsoft is unrecognizable from the one under Ballmer. It may be down to times changing, while Mr. Nadella emphasizes curiosity, Mr. Ballmer prioritized defending the group's PC business. Financial Times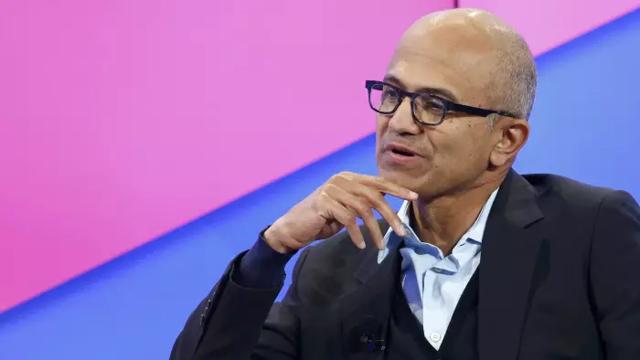 Trading at an all-time high, investors in Microsoft (NASDAQ: MSFT) are increasingly worried on what to expect going forward. They are worried of slow growth, saturation, and increased competition from its peers. They are also worried about the company's market capitalization which currently stands at $511 billion. Rightly, they are also concerned about the company's valuation which as seen in the table below is considerably higher than that of its peers.
To some extent, their concerns are valid. With this type of valuation, the room for the company to grow are limited. In this article, I will explain why Microsoft's best days are ahead of it and why investors need not to worry.
Microsoft

Apple (NASDAQ: AAPL)

Oracle (NYSE: ORCL)

Salesforce (NYSE: CRM)

Adobe (NASDAQ: ADBE)

Alphabet (NASDAQ: GOOGL)

Amazon (NASDAQ: AMZN)

Market Cap ($)

511.5B

648.8B

165B

54.9B

56.2B

568.6B

394B

Enterprise Value ($)

470.5B

670.1B

161.5B

55.09B

53.46B

501.77B

386B

PE (NYSE:TTM)

31.41

29.55

19.43

263

49.05

29.55

189.5

PE (forward)

21.92

13.59

15.69

80.58

29.75

19.89

56.20

PS Ratio

5.99

3.104

4.566

6.841

9.79

6.477

3.17%

PS Ratio (forward

5.22

2.848

4.393

6.565

7.89

5.39

2.346

Dividend Yield

2.26%

1.83%

1.49%

–

–

–

–

Dividend Yield (forward)

2.48%

1.90%

1.51%

–

–

–

–

Operating Margin

23.07%

27.84%

34.03%

1.37%

25.5%

26.27%

3.16%

EV/EBITDA

15.99

9.138

10.47

77.35

29.10

16.50

33.07
Source. Author + YCharts
While Microsoft is slightly overvalued compared to its peers and the market in general, the company's momentum under the leadership of Satya Nadella is increasing. Below is a summary of how the company performed in the recent quarter (in constant currency).
Total revenue – $26.1 billion (+4%)
Productivity and Business Processing segment (+ 12%)
Office Commercial (+ 7%)
Office 365 Commercial (+ 49%)
Office Consumer (+9%)
Intelligent Cloud – (+10%)
Server products and cloud – (+12%)
Enterprise services – (– 2%)
More Personal Computing – (– 4%)
Search – (+ 11%)
Devices – (– 34%)
Gaming – (– 1%)
As seen, the company delivered improvements in most of its product offerings. The device revenue decline was attributed to the 81% decline in the phone business revenues. In gaming, the revenues were affected by the industry's pricing pressure, which forced the company to reduce the price of its consoles.
Clearly, investors have been bullish on Satya since he became the CEO in 2014. His increased investments in research and development, reduced unnecessary expenses, and changed the company's culture. His mobile first, cloud first strategy is beginning to bear fruits. The chart below shows how the stock has performed compared to Apple, the Dow Jones Industrial Average (DJA) and the S&P 500 (SPX) since his arrival.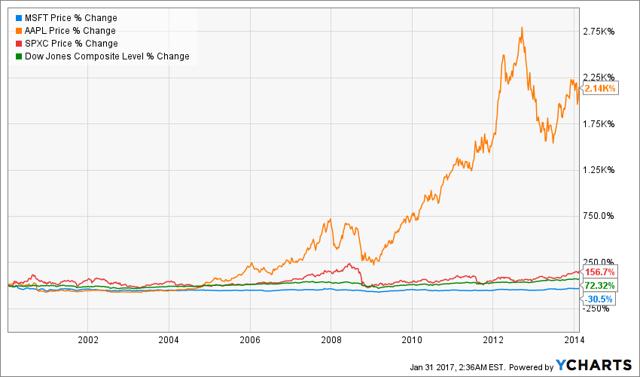 See, a major difference. Before his exit, Steve Ballmer was rated by Glassdoor as the worst CEO in tech. On the contrary, Satya Nadella is one of the best rated tech CEOs, with 95% of employees approving his efforts, and 85% stating they would recommend him to a friend.
Before the current CEO, Microsoft missed significant milestones that its competitors achieved. First, the company missed the innovation of search engines. With Satya on top, Bing which was launched in 2009, has become cashflow positive and a valuable contributor. Microsoft also failed to create a mobile platform, and ended paying a $7.2 billion premium for Nokia's mobility division in 2011 before writing it down in 2015. MSFT also missed the social media age. Last but not least, to a large extent, MSFT missed the cloud era.
Banking on Satya Nadella
Under Satya Nadella, Microsoft has transformed from an old technology company to a start-up like company. He has done a number of things that are likely to drive Microsoft to higher levels in years to come. First, he has reduced the number of employees in divisions that are no longer effective such as the handset division. This has created value to shareholders by saving millions of dollars. Second, he has introduced a new way of doing things in the company, which investors hope will spur innovation and improve adaptability. His development and backing of Cortana is a testament to this. A review by Trusted Reviews compared Cortana, Siri, and Google Assistant and concluded that Cortana was superior to Siri.
Third, Amazon's voice assistant has been very popular. This has led Google to develop its own (Google Home). Microsoft has announced plans to come up with a competitor that will launch this year. At the World Economic Forum, Satya Nadella hinted that the product would be more advanced than Amazon echo because of the company's recently announced Natural Language Processing (NLP). NLP is expected to 'analyze, understand, and generate languages that people generate naturally'.
Fourth, Microsoft has succeeded in the development of new hardware. The Microsoft Surface tablets have been received well by critics as shown below. While Apple's iPad remains favorite among users, the Surface, which is relatively newer, has achieved the targeted success.
Other notable contributions by Nadella so far include: the launch of Microsoft Teams, which is a communication platform for group work. Teams was launched in November last year and, so far, has more than 30,000 users. Nadella has also reimagined Windows by launching Windows 10, which is now installed in more than 400 million devices. More than 1.5 billion people currently use Microsoft Office and growth in the Cloud through the Azure platform has also improved significantly. For investors, dividends have increased and the company has completed its $40 billion share repurchase program.
Final Thoughts
In terms of valuation, Microsoft is slightly more expensive than the market and its peers. The stock is currently trading at a P/E of 30, which is higher than the industry average of 24, its three-year median of 26.94, and the S&P average of 24.74. However, with the current leadership, I believe the company deserves its higher valuation. Whichever way you look at it, under the leadership of the current CEO, Microsoft is by far a very different company.
In fact, I believe that Microsoft has not touched the surface of the future of computing. For instance, Microsoft has started investing in Industrial Internet of Things (IIoT), which is by far different from the common IOT. IOT is expected to impact 6% of the global economy by 2020. IOT will reach 30 billion devices in 2020 and 75 billion by 2025. According to Bain, the IOT market including hardware and software vendors and service providers is expected to reach $470 billion. General Electric (NYSE: GE) predicts that IIoT will be a $15 trillion industry in the next 15 years.
According to Business Insider Intelligence, Microsoft is one of the leading contenders in IOT and IIoT category. With the leadership of Satya Nadella, long term investors should bet on the company.
Disclosure: I am/we are long MSFT.
I wrote this article myself, and it expresses my own opinions. I am not receiving compensation for it (other than from Seeking Alpha). I have no business relationship with any company whose stock is mentioned in this article.
Satya Nadella Is Making Microsoft Great Again - Microsoft Corporation (NASDAQ:MSFT) have 1274 words, post on seekingalpha.com at February 1, 2017. This is cached page on Health Breaking News. If you want remove this page, please contact us.