Malika Begum, a domestic worker, constantly splashes water on the floor of her two-room shanty apartment in southern Delhi to stay cool and calm as the mercury climbs ferociously Electricity supply is erratic and this is a chore she has been accustomed to over the past two months as a blistering heat wave has swamped the Indian capital and vast swathes of the South Asian nation.
Temperatures have reached as high as 48 degrees Celsius (118 Fahrenheit) in parts of the northern states of Uttar Pradesh and Rajasthan, and 47 degrees Celsius (116 Fahrenheit) in Delhi in recent days.
"The heat is unbearable and I have to constantly water the floor during the afternoons when it becomes really hot," says Malika.
In another corner of India, Pratap Bulusu, a construction worker from the southern city of Hyderabad in Telangana state has just recovered from dehydration and considers himself fortunate to have survived.
It's not an isolated case. Many construction and agricultural workers toiling for hours on end in scorching temperatures ranging between 44 and 49 degrees Celsius (111 and 120 Fahrenheit) have faced a similar fate.
Heat stroke and heat exhaustion are the two major risks posed by high-temperature conditions. In the southern states of Andhra Pradesh and Telangana, 220 people reportedly died of sunstroke last month alone.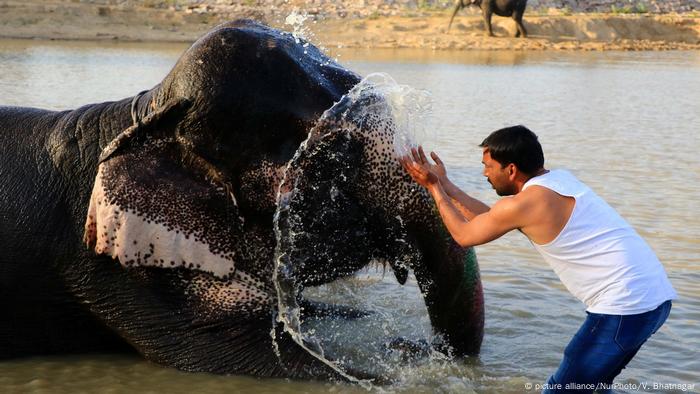 The image shows a mahout giving a bath to his elephant in a pond to beat the heat during a hot summer day at Elephant Village in Jaipur
Thousands of deaths
Sweltering heat is not an uncommon phenomenon in India. Nor are deaths resulting from the extremely hot conditions. In the last four years, India has seen as many as over 4,620 deaths caused by heat waves, according to data published by the Ministry of Earth Sciences.
At least ten people lost their lives in various parts of Uttar Pradesh in the last 24 hours, officials said on Tuesday.
The number of patients with heat stroke conditions, diarrhea, vomiting and high fever has increased in hospitals across the state.
In the eastern state of Odisha, at least 34 people have lost their lives due to heatstroke this summer.
The hot weather conditions have also caused problems like crop failures, power outages and acute water shortages, bringing pain and misery to millions of Indians.
Most victims usually belong to the vulnerable sections of Indian society – the destitute, the elderly as well as the workers doing backbreaking low-wage jobs in sectors like agriculture and construction.
An Indian man takes a bath between railway tracks on a hot summer day in Jammu on May 25
Climate warming up fast
Heat waves are defined as conditions triggered by the temperature rising to more than 45 degrees Celsius. When temperatures soar above 47 degrees Celsius, it is known as a severe heat wave.
The India Meteorological Department (IMD) has been issuing heat wave warnings periodically across northern, western and central regions of India, particularly in Gujarat, Rajasthan, Madhya Pradesh and northern Maharashtra. The met department had earlier warned that summer temperatures in 2017 were likely to be higher than normal.
The altering global weather patterns as a result of climate change due to human emissions of greenhouse gases are blamed as a reason for the increased frequency and severity of these heat waves.
A recently published report in the Proceedings of the US National Academy of Sciences projected deadly heat waves to occur, particularly in megacities, even if global warming is limited to below 2 degrees Celsius, the target set under the 2015 Paris climate agreement.
The study's findings show that even with a less than two degrees Celsius rise, places like Kolkata in India could expect conditions similar to their deadly 2015 heat waves every year.
"India's climate is warming up at a very fast rate. It is warming at a much faster rate than thought previously. Our analysis looks at temperature trends in the country – both annual and seasonal – from 1901 till recent years. And it finds that the country has been getting warmer continuously, consistently and rapidly," Chandra Bhushan of the Centre for Science and Environment, a New Delhi-based environmental NGO, told DW.
"Unfortunately, it is the poor that are always hit in these times. Vegetable vendors, construction workers and farmers are the normal causalities. We are tying up with state disaster management commissioners and health secretaries to formulate plans in the face of large casualties from heat wave conditions," S.C. Bhan, an IMD meteorologist, told DW.
For now as the heat conditions continue, news of the arrival of monsoon rains is on everyone's mind. While the monsoons have already made an appearance over southern states like Kerala, they are eagerly awaited in the northern part of the country.
South Asia braces for another heat wave

Central and northern India sweltering

Large parts of central and northern India were sweltering on Saturday as temperatures hovered between 36 and 44 degrees C (96.8 and 111.2 F), even though peak summer is more than a month away. The Indian Meteorological Department said there were "heat-wave to severe heat-wave conditions." The department had earlier warned that summer temperatures in 2017 were likely to be higher than normal.

South Asia braces for another heat wave

Over 46 degrees in parts of Maharashtra

A district in India's second most populous state, Maharashtra, recorded an unusually high temperature of 46.5 degrees C (114.8 F) on Wednesday. A day earlier, Bhira Town also recorded temperatures in excess of 46 degrees. Meanwhile, heat-wave warnings were also issued for Rajasthan, Madhya Pradesh, Gujarat, Madhya Maharashtra, south UP, south Haryana, Chandigarh and interior Odisha.

South Asia braces for another heat wave

Pakistan affected as well

Meanhwile, in neighboring Pakistan, temperatures in excess of 43 degrees C have engulfed parts of the southern province of Sindh. The cities of Nawab Shah and Larkana were the most affected, while several others, such as Mohenjo-Daro, Sukkur, Dadu & Hyderabad, also recorded temperatures above 40 degrees C.

South Asia braces for another heat wave

Karachi on alert

Earlier this week, health authorities in Pakistan's most populous city, Karachi, issued a heat-wave alert. The city administration is seeking cooperation from private hospitals to bolster preparations. Heatstroke relief centers are being established in all major public and private hospitals. Authorities have warned that the situation this year will be similar to the one in 2015.

South Asia braces for another heat wave

Pakistan seriously hit by climate change

Currently, Pakistan ranks seventh in the list of 10 countries most affected by climate change globally, with 133 events directly attributed to it in the last two decades. They cost the country 3.82 billion dollars in losses incurred.

South Asia braces for another heat wave

Megacities facing threats

A recently published report of the US National Academy of Sciences said there would be deadly heat waves, especially in megacities, even if global warming was limited to below 2 degrees C – the target set under the Paris climate agreement. The study's findings show that places like Karachi in Pakistan and Kolkata in India could expect conditions similar to the deadly 2015 heat waves.

South Asia braces for another heat wave

Mounting human cost of global warming

At least 2,000 people died in India during the heat wave in 2015, when temperatures hovered near 50 degrees C. In Pakistan, the death toll stood at 1,200, with some local estimates putting it at around 3,000. On one day, the temperature in Karachi rose to 48 degrees C. This was measured at around 64 degrees on the heat index, which tries to indicate how such a temperature is perceived by humans.

Author: Aasim Saleem
Sizzling heat wave hits hard India's poor have 1384 words, post on www.dw.com at January 6, 2017. This is cached page on Health Breaking News. If you want remove this page, please contact us.