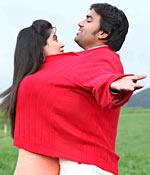 In a tiny village set in the vast paddy fields of Tamil Nadu, gathers a Panchayat meeting, headed by the dreaded nattamai (chieftain) — wearing heavy jewellery – and accompanied by the inimitable sombu.
He declares the punishment for a couple that's just had a boy: the child is to be sentenced to death. The reason? Apparently, every male child grows up and journeys to Chennai, becomes an actor and then the Chief Minister. Other punitive measures include watching the films of 'that actor who keeps twiddling his fingers' a hundred times!
Of course, the so-called kallippaal used to kill infants comes in beautiful tetra-packs made by the firm PRS, and is touted to be 'clean and hygienic.'
These and other gags make up what's easily the first of its kind in Tamil cinema: Cloud Nine Movies' Thamizh Padam (Tamil Movie), a full-length spoof on the entire industry, warts and all. Major kudos to director C S Amudhan for even coming up with the idea and then implementing it as it's not easy to work in the Land of Cliches, parody it, and then live to tell the tale.
The recipe for this particular concoction seems to be: take an ounce of every single staple of Tamil cinema over the decades, stir it over the fire of comedy and deliver with a huge dollop of witty dialogues.
So you have our hero Shiva (Shiva), a young man destined for greatness. As a newborn, he instructs his grandmother to put him in a goods train, instead of killing him. (The logic being that every child dumped in a goods train always arrives in Chennai, to a shot of the Central station.). His grandmother (Paravai Muniyamma) does better than that – she journeys with him to Chennai and raises him, teaching him the facts of life.
He watches a group of baddies beat up people in the Koyambedu market, fuming, but unable to do anything. Being told to cycle fast, though, he does and transforms into a dashing young man, while the baddies still (!) thrash people. Shiva beats up the villains with panache, albeit with a split seam in his pants.
Accompanied by rousing music, Shiva then proceeds to live life through many more such clichés: he's surrounded by college-going, drink-guzzling friends — Nakul, Siddharth and Bharath (Manobala, Venniradai Murthi and M S Bhaskar) — who play carom with him and ogle at pretty girls a la Boys; he falls in love with a pretty girl Priya (Disha Pandey) who hates men with a vengeance, but who later succumbs to his charms when he doesn't announce his love for her through the college PA-system and later goes to prove his worth, when his prospective father-in-law challenges him to get rich quick. Which Shiva manages to do within the mandatory space of one song and actually manages to acquire railway stations and electricity boards.
But life is not a bed of roses – also translated as Tamil cinema has far too many clichés left – and Shiva has to run through them all before he can get the girl. This means confronting a great many villains and finally finding out who the horrible super-villain D is (and for the love of life, do not disclose his identity once you've watched it.). 
Conceived in the best tradition of spoofs like Hot Shots, Top Secret! and Airplane, Thamizh Padam manages to avoid the biggest trap of the genre – explaining all the clichés over and over (unlike our comedy tracks) and simply letting you, the viewer, delve into your cinematic memory and identify them all. Which is even more fun than the actual spoofing itself.
No superstar, director or mega hero has been left alone; everyone's been brought into the fray and ripped off completely, until you're hooting with laughter.
It also helps that you've got Shiva playing the lead: he's a master at dead-panning and delivering his lines without a flinch. Fight sequences? Romantic duets? It's all there, and he can out-perform all our heroes without batting an eyelid, wearing Bermudas and Hawaii slippers.
Disha Pandey is your traditional simpering North Indian heroine – except that here it works great. If anything, it's the friends cast that sags a bit, despite the presence of veterans. But the villains more than make up for it.
The real hero, though, is C S Amudhan: every bit of the screenplay has been adapted to bring in almost all of Tamil cinema's most glaring stock situations, and Hollywood 'inspirations,' but it can only come from someone who loves gags and Tamil cinema equally. The only (minor) flaw is that you might feel a bit overwhelmed with the succession of comic situations, in his need to get every cliché. But who cares?
Special credit goes to cinematographer Nirav Shah (who, reportedly, laughed the whole time the script was narrated to him), who hasn't skimped the slightest when it comes to showcasing the hero: the camera pans up, down, sideways and performs every trick in the book usually reserved for stars and then some.
Kannan's music is a hoot, especially Pacha Manjal, Oh Maha Zeeya and Oru Sooravalli – but it's his background score that's truly delightful, evoking the best of 1970s and 1980s music. T Santhanam's editing hits the mark.
Unlike many recent Tamil films, this one actually requires you to keep your brains with you, if only to appreciate all the effort gone into making it. A must watch.
Rediff Rating:
Thamizh Padam is a rip-roaring spoof have 1216 words, post on www.rediff.com at February 1, 2010. This is cached page on Health Breaking News. If you want remove this page, please contact us.